Have you read an article, listened to a podcast, participated in a debate about police violence you'd like to share? Please let us know by email at contact@obspol.org, we'll publish it here!
---
11.03.2021 – Video montage showing Police violence in Germany
In Germany as well cops can get violent, as shown on this video montage, pointing in particular violence against young people and people of color.
We can see the same techniques in use, like kneeling on the victim's neck, same way of shielding the scene, same passivity from colleagues, same kind of agressions on minors (15)…
[Source: Handbook Germany Deutsch sur YouTube]
---
20.10.2020 – At Least 15 People Killed as Nigerian Protests Against Police Violence Continue
In Nigeria, protests against police brutality show no signs of slowing down, even after police disbanded the controversial Special Anti-Robbery Squad, or SARS, earlier this month. Tens of thousands of demonstrators took to the streets of Lagos in recent days, bringing traffic in the bustling city to a standstill. An estimated 15 or more people have been killed, and dozens more injured, since the demonstrations started. Protesters also say they doubt SARS officers will be held accountable for their abuses or that excessive force by police will be curtailed despite recent reforms.
[Source : Democracy Now!, News AKMI]
---


02.10.2020 – Police officer in Chile accused of throwing teen from bridge
In Chile, a now-viral video shows a police officer in Santiago chasing a 16-year-old boy during an anti-government protest, whom the officer then grabs and throws over the railing of a bridge into a river channel. The boy is seen floating face down, motionless in the dirty shallow water. He is reportedly at a hospital in stable condition. Chileans are preparing to vote on a referendum that could replace the country's Pinochet-era constitution. Over 8,500 human rights violations have been attributed to Chilean police since the start of protests over inequality and privatization started a year ago.
[Sources : Democracy Now!, New York Post, Al-Jazeera]
---
17.09.2020 – In Germany, 12 000 cases of illegal police violence each year
According to an yet-unpublished study, illegal police violence acts in Germany may be a lot more frequent than previously thought. This is the conclusion of a research led at Bochum University, by criminologist professor Tobias Singelnstein : at least 12.000 presumably illegal aggressions by police officers per year, 5 times more than actually registered cases.
This projection is based on the most extensive study on police violence in Germany to date. Over 1000 people participated in this study.
"Based on our results so far, we suspect the dark zone might be 5 times larger than the clear zone revealed by statistics", said Prof. Singelnstein to Kontrast and Der Spiegel reporters.
So far at least 2000 cases per year of  presumed police agressions were processed by State or Federal Prosecutors. Theses cases are seldom brought before penal Courts: less than 2% are tried before the courts, and less than 1% result in a criminal sentence, according to Prof. Singelnstein. Most often, this a case of the word of citizens vs. the word of police officers.
Prof. Singelnstein points out that the main reason of such a low rate of investigation is due to public prosecutors trying to avoid putting at risk their relatioship with the police. Moreover, Prosecutors tend to consider accusations of physical harm as generally unjustified, hence the low rate of registered complaints.
[Sources : Kontraste, Der Spiegel]
---

17.09.2020 – Unknown pro-Loukachenko masked men film protesters, while other para-military beat an kidnap them
In this video compiling various footage of police and para-military brutality, new actors seem to have appeared in the Belarus streets to help police forces with the ferocious repression of anti-government protesters:
in Minsk, masked men equipped with video cameras and radios came to film protesters, declining to identify themselves
as protesters engage with them asking why they are filming and who they are, para-military dressed in fatigue with their face covered come to the rescue of the men in blue with batons… Those appeared in the country a week ago, they lead the repression of protests, beating them up and kidnapping them in unidentified cars, taking them to unknown places…
masked men in civilians clothes are also active in the streets alongside regular police forces and the special unit against organized crime…
[Sources : Arte TV, Nexta, social networks]
---


09.09.2020 – Police killing of an unarmed lawyer repeatedly tasered for 'not social distancing' sparks riots that leave at least seven dead
Javier Humberto Ordonez, a 46-year-old lawyer and father of two was allegedly violating coronavirus social distancing rules (Colombia had a six-month coronavirus pandemic lockdown that began in late March, with the harsh restrictions eased two weeks ago) when he became involved in an altercation with police in the early hours of Wednesday Sept. 9 morning.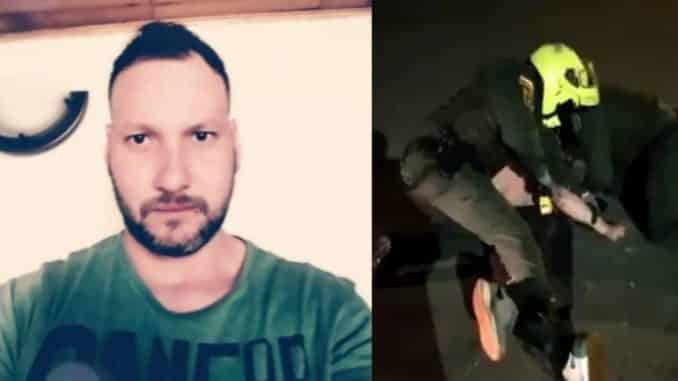 In a video posted on social media by friends who were with him, Javier Ordonez can be heard shouting, "Please, no more, I'm suffocating" as two police officers continued to restrain him with their knees on his back and repeatedly tasing him. Javier Ordonez was taken into police custody early on Wednesday where family members have alleged he faced more police abuse. He died in hospital soon after.
Bogota's Mayor Claudia Lopez called the police brutality "unacceptable", but also condemned the violence in Bogota that resulted in deaths. Colombia's defence minister, Carlos Holmes Trujillo, said rioting had killed seven people in Bogota with more than 150 civilians and police injured across Colombia. Protesters took to the streets on Wednesday night not only in Bogota, but also in the cities of Medellin, Pereida and Ibague, attacking police stations and public transport infrastructure.
The government announced the two officers involved have been suspended pending an investigation, and an autopsy on Javier Ordonez would be carried out.
[Sources : Twitter, BBC, Caracol TV, Colombiamegusta, Liberation News, Al Jazeera, The Guardian, The Sun, RT]
---
28.08.2020 – Tanya Day's family 'devastated' that no police will face charges for death in custody
Police officers involved in the death in custody of the Yorta Yorta woman Tanya Day will not face any criminal charges.
The Victorian coroner Caitlin English referred the case to the director of public prosecutions in April, saying in her lengthy inquest findings: "I believe an indictable offence may have been committed in connection to Ms Day's death."
Victoria police said they had received advice from the office of public prosecutions not to proceed with charges against any officers involved in Day's death, which the inquest found was caused by a fall in the cells of Castlemaine police station in December 2017. […]
Day died in hospital on 22 December 2017 from a brain haemorrhage sustained when she fell and hit her head in the police cells 17 days earlier, after being arrested for public drunkenness. Police officers told the coroner she had been detained for her own protection, to sober up, but the coroner found that the welfare checks conducted by two police officers responsible for Day's care in the cells were inadequate and not compliant with police guidelines, and that one of those offices was not a "credible witness".
No internal sanctions have been issued by Victoria police against any officer involved. The force said it acknowledged the loss and suffering experienced by Day's family.
[Source : The Guardian]
---
08.14.2020 – Taking Hard Line, Greece Turns Back Migrants by Abandoning Them at Sea
The Greek government has secretly expelled more than 1,000 refugees from Europe's borders in recent months, sailing many of them to the edge of Greek territorial waters and then abandoning them in inflatable and sometimes overburdened life rafts.
Since March, at least 1,072 asylum seekers have been dropped at sea by Greek officials in at least 31 separate expulsions, according to an analysis of evidence by The New York Times from three independent watchdogs, two academic researchers and the Turkish Coast Guard. The Times interviewed survivors from five of those episodes and reviewed photographic or video evidence from all 31.
"It was very inhumane," said Najma al-Khatib, a 50-year-old Syrian teacher, who says masked Greek officials took her and 22 others, including two babies, under cover of darkness from a detention center on the island of Rhodes on July 26 and abandoned them in a rudderless, motorless life raft before they were rescued by the Turkish Coast Guard. […]
Illegal under international law, the expulsions are the most direct and sustained attempt by a European country to block maritime migration using its own forces since the height of the migration crisis in 2015, when Greece was the main thoroughfare for migrants and refugees seeking to enter Europe.
The Greek government denied any illegality. […]
"These pushbacks are totally illegal in all their aspects, in international law and in European law," said Prof. François Crépeau, an expert on international law and a former United Nations special rapporteur on the human rights of migrants. […]
Greeks were once far more understanding of the plight of migrants. But many have grown frustrated and hostile after a half-decade in which other European countries offered Greece only modest assistance as tens of thousands of asylum seekers languished in squalid camps on overburdened Greek islands.
Since the election last year of a new conservative government under Prime Minister Kyriakos Mitsotakis, Greece has taken a far harder line against the migrants — often refugees from the war in Syria — who push off Turkish shores for Europe.
The harsher approach comes as tensions have mounted with Turkey, itself burdened with 3.6 million refugees from the Syrian war, far more than any other nation. […]
[Read the full article on : The New York Times]
---
08.13.2020 – U.N. Sounds Alarm as Belarus Police Open Fire on Anti-Government Protesters
In Belarus, police fired live ammunition, stun grenades and water cannons at anti-government protesters as demonstrations calling for the ouster of longtime authoritarian President Alexander Lukashenko continued for a fourth straight evening. The U.N. high commissioner for human rights called the police use of force excessive and a clear violation of international human rights standards, saying 6,000 people have been detained — including children — with at least two protesters killed by police.
In a harrowing video broadcast by Belarus state television, a half-dozen terrified protesters are shown lined up against a wall with injuries to their heads as, one by one, they promise to no longer take part in anti-government protests.
On Wednesday, hundreds of women dressed in white marched peacefully through the streets of Minsk demanding an end to police brutality.
Protester: "We stand against violence, against people getting beaten. We are standing against our children living in such a forceful state. We just want a bright future for us and our children."
[Sources : DemocracyNow!, The New York Times]
---